Glass Art Tables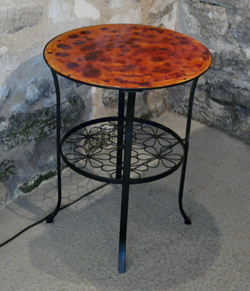 We are now offering you the opportunity to purchase or commission one of Serena's truly stunning Glass Art Tables. Currently, we have an equisite patio table which can be painted to your specific requirements.
The table is made from black coated metal, with a tempered glass top and has the following dimensions...
Diameter: 49 cm
Height: 60 cm
Weight: 5kg approx.
The top is reverse painted (painted on the bottom) and then sealed with vinyl, so that you can use the table outdoors or inside, and meaning you end up with a lovely smooth glass top.
Should you wish to place an order for one of Serena's tables, or discuss your requirements with us, please feel free to
contact us
via email, or call the Gallery on...
01225 868644. Alternatively you can always come down to our gallery and view the examples we carry in stock.
You can order your table online by using the payment link below and just let us know what colours you would like...